Give the bike path back to the cyclists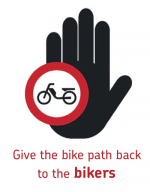 Speeding scooters cause accidents and make the bicycle tracks unsafe and unpleasant for cyclists.

The city of Amsterdam wants to get scooters off of the cycle tracks, have them ride on the main road, and require their riders to wear a helmet. To do so, Amsterdam needs permission from the national parliament, which will discuss the issue on October 9th.

Presently, there is not a majority of votes to pass this legislation. Therefore we want to let the parliament know that Amsterdam cyclists are convinced that scooters don't belong on on their bike paths. We'll do this by sending a petition to the parliament.


Sign the petition at: fietspadvoorfietsers.petities.nl


More
Please share this with friends, colleagues and others.
Visit www.scooteroverlast.nl for:
more information

a place where you can share your experiences about scooters

a video that you can retweet